Analytics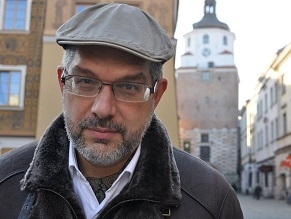 Yohanan Petrovsky-Shtern

Savior on the Blood, or Ilya Khrzhanovsky's Babyn Yar Experimental Museum

13.05.2020

I was invited by Krytyka to share my thoughts on the Babyn Yar Memorial Center draft proposal by the Russian film director Ilya Khrzhanovsky. I had been closely following the debate surrounding the project, but still, this invitation came as a surprise, as I am not a public figure. Political and social visibility are not my sphere, and to keep my professional sanity and humility I have always avoided hot political issues, with very few exceptions. This is one of them. Before getting to the project itself, let me first briefly explain why I have chosen to make a public statement on this topic.

I have been bringing tourists to Babyn Yar since about 1974. At first, they were family friends from Moscow and St. Petersburg (back then—Leningrad). By the beginning of the 1980s, I was bringing rabbinic leaders from Israel, the United States, and Canada. In the mid-1990s, I organized tours for hundreds of Jewish schoolteachers from all over Ukraine. In the last twenty years, several donors of my university and dozens of university professors in Jewish studies from the United States and Israel have joined me there. I remember when the site had just one stela, reminding us of the 100,000 peaceful Soviet citizens murdered there. I also remember the humiliating official monument built in the best socialist realist style and commemorating everybody except Jews. I was then scandalized by the plaque placed at this monument, written in Yiddish with half a dozen egregious mistakes, thus offending the Jewish victims shot there. I remember the first commemoration of the Babyn Yar massacre at the newly established Menorah monument and walking through the ravine area itself dozens of times, from the Monument to the Murdered Children to the crosses commemorating Ukrainian nationalist leaders. As a Kyivan, I have had an intense, 50-year relationship with this site. It was part of my upbringing and my coming of age.

It is even more than that to me. There is a tombstone at the Kurenivka cemetery, first lot, grave no. 2. Beside the name of Ozilii Krzhevin, who died in 1939 and was buried there, there are two names carved on the tombstone: Hannah Krzhevina, his wife, and Helen Krzhevina, his daughter. Both have the same date of death: September 29, 1941. Ozilii and Hannah were the parents of my grandmother, and Helen was her sister. Hannah and Helen were shot at Babyn Yar on September 29 or 30, 1941. After the death of my grandmother, Roza, also buried there, my mother took several scoops of soil from the Babyn Yar ravine—dark brown soil that held the ashes of the Jewish victims—and interred it at her grandfather's gravesite. The novel Maybe Esther, by my sister Katja, places some of these people in the broader context of history and memory. I am directly related to the 33,771 Jewish victims shot at Babyn Yar on September, 29-30, 1941. Their blood is in my veins.

My connection to Babyn Yar also has a professional dimension. In 1992, Dr. Barry Walfish, a Canadian bibliographer and medievalist, asked me during our tour of the Babyn Yar ravine, what I was planning to do with my career. To my observation that I would like to study Jews in medieval Spain, he pointed to the bottom of the Babyn Yar and observed: why don't you study this history, the Jews of this land. I followed his advice and since then, for about thirty years, I have been studying East European Jewish history and the relations of Jews and Ukrainians. Of my seven books, six are directly dedicated to the Jews of Ukraine, covering various aspects of Ukrainian-Jewish relations from the 10th through the 20th centuries. Although I do not teach courses on the Holocaust, the Babyn Yar is part of any course on modern European Jewry that I have taught and of dozens of presentations that I have given at universities in Boston, Cambridge (UK), Chernivtsi, Chicago, Dnipro, Edmonton, Haifa, Kharkiv, Kyiv, Lviv, Munich, New York, Ostroh, Paris, St. Gallen, Toronto, Wroclaw, and Warsaw. The history of the response that Babyn Yar elicited among Ukrainian dissidents is the focus of my current book project. I believe that I am well-equipped to share my professional feedback regarding the Babyn Yar memorial project draft as proposed by Ilya Khrzhanovsky, whose expertise either in museology or in Jewish history in Ukraine, let alone the Holocaust, is unbeknownst to me.

***

The goals of the proposed project are highly commendable: to transform the forgotten into the remembered, to think about today's realities through the prism of the past, to perceive history holistically, and to adapt the exhibition space to individual visitors. These are the clichés of any modern museum, the fundamental principles of an interactive space, the new canon of museum interaction. I fully agree with these principles, although they are nothing new and reflect no specificity of Babyn Yar as the place and time of the tragedy that occurred there.

The proposed project has a number of innovative moments, and these moments are worthy of examination. Mr. Khrzhanovsky, the author of the project, suggests a combination of artistic and performative practices. He seeks to create situations in which the visitor clashes with himself or herself under specially designed circumstances. The author of the project strives to create a highly charged "catalytic transformer" that will produce elements of what he calls hyperreality, in which the visitor will experience unknown thoughts and emotions including "beauty, horror, violence, and tenderness." The visitor will go through a labyrinth of personal experiences, which would manipulate his emotions. Every visitor will fill out a questionnaire to help the curators create an individually-designed itinerary with roleplay befitting or, rather, psychologically challenging to the visitor.

Let us imagine this proposal approved in this shape by its supervisory board. Given its financial support, it will definitely be constructed with the help of international nouveau-riches eager to see the institution eclipse the most well-financed Jewish or Holocaust museums in Berlin, Frankfurt, Moscow, Paris, Tel-Aviv, Warsaw, and Washington. Let us imagine teenagers, adults, and senior citizens from all over Ukraine brought in on buses to that would-be museum to experience the Babyn Yar massacres. Yes, massacres, in plural—Ukrainian, Soviet, Roma, and of course, Jewish massacres. And we, with our colleagues, relatives, friends, and children are among those visitors.

I hope you are excited! But first, let's fill out a questionnaire. Are you interested in the experience of ordinary Nazi soldiers? Good, you will be standing at the entrance to the site, confiscating the documents and valuables of all visitors. You will be throwing them into a garbage bag: cell phones, watches, cameras, credit cards, ID cards, passports. People will ask, "Hey, how we will get all those back?" You will have to give them all the same sober answer: "Don't worry, we will take care of that."

Perhaps you are interested in Babyn Yar as a multi-dimensional experience, or as the project says, you can participate in its ethical and moral experiments. Would you like to be the Babyn Yar? Yes, the place itself, with its clay soil, its ravine, its scary rim! You will lie down on the ground, lining up one after another as if you are the edge of the ravine. Those who will be performing the Jews will roll over you, and fall behind you, as if into the abyss. After all, you have done such tricks at school to your classmates, have you not? The only difference is that now it will be a group show. Isn't this fun?

Ah, the curator says, I see. You cannot believe that a small group of well-trained Sonderkommando 4A could murder 33,771 people in just two days? Well, it was a lot of work. Let me suggest that you roleplay a machine-gun bullet. Those who perform the Nazi firing squad will produce authentic but slightly repetitive dry sounds—after all, the museum project promises an auditory experience—and you, playing a bullet, will run to the people standing out there and push them over those who are lying on the ground, the man-made rim. Make sure you really shove those Jews, watch them falling down, and then run back again. Back and forth, back and forth. Yes, you will get tired, but you will truly experience the hard work of the SS firing squad.

Are you not excited enough? Are you bored? Why don't you play the Ukrainian bystanders! You will be standing along the walls of the museum corridors, watching as people in groups are brought in by the museum curators dressed as the Hilfspolizei. Make sure you pretend you don't care—but also do not forget surreptitiously to grab a jacket, a shawl, or a necklace from the passers-by—grab it and then get back against the corridor wall as if nothing happened. Yes, you will return what you have taken, don't worry about that. But what a thrill to experience a real-life situation in which you can act like a real marauder stealing from defenseless people who will be dead in less than half an hour?

Are you here with your biology teacher? Interested in the human body? How cute! You will play blood. We, the museum guides, will place you at the real edge of the ravine, and you will roll down the hill—the beautiful, green hill with its thick grass, the envy of any football field—and after you roll down, you will assemble there and share your collective experience. And you will be assigned to write a short essay on what it means to be the blood of the victims.

Oh, I knew you would be here, another curator exclaims! You study Ukrainian history and you are uncomfortable with the fact that the Bukovyna kurin (battalion) arrived in Kyiv late in the fall of 1941 and did not manage to participate in the murder of those Communists—Jewish elderly, women and children. Don't worry, we will make you feel comfortable. You will get to participate in a game of roleplay with your entire class. You will start at 2:30 pm at the St. Cyril Church, where fake Uniate priests will bless your group. Then you will get Bukovyna kurin insignia from the museum depository. After that, you will have to run, as fast as you can, to make sure you get to the Babyn Yar museum exit precisely when the 3 pm group will be let out. You will then courteously escort that group to the edge of the ravine for a joint experience. Don't worry if you do not manage to get there in time. First, we will have more groups coming out for you to take care of, albeit not that numerous. And second, you will then feel, as the museum project promises, something you have never felt in your life: what it means to be willing to participate in mass murder but miss the timing.

Ultimately, there will be those visitors who associate themselves with the Jews. Well, this museum is not really about you. Your story is only too well known and dull. You just have to form groups, and the curators will take you through the museum corridors. Do not step either to the right or to the left, do not get close to the multimedia projections or you will not be allowed to continue your tour. Follow the instructions, be obedient, and our Polizei-cum-curators will take good care of you.

Whoever you are, you might also enjoy our experimental rooms that fit the best standards of psychological experiments by scholars from Stanford, Berkeley, and Harvard. Here, you will encounter material objects: a talking child's shoe will tell you the story of its five-year-old owner from the Podil district of pre-war Kyiv. You will hear a lullaby performed by the bra of a nursing Jewish mother who did not manage to give her toddler her breast before the execution. In the interactive part of the room, you will enjoy extracting gold teeth from the carbonated mandibula of shot and burnt Jews. You could also try on replicas of ties, hats, brooches, and necklaces gathered at the Babyn Yar checkpoints, just to feel what it means to be a proud Jewish citizen of 1941 Kyiv. Do not forget to pick up your credit cards and cell-phones, stockpiled in the big hall with the sign "cloak-room."

When you finish the group tour, you can visit the appreciation room and see portraits of the donors, supervisory board members, and scholars who made your unforgettable experience possible. Call our 1-800-Babyn-Yar number to share your impressions and we will promptly upload them, with your permission, to our website. This will help us reach out to millions of tourists and create a really impressive experimental museum with an international reputation.

***

This is how the project of Ilya Khrzhanovsky looks like if one follows his approach to "transformative experiences." His high-tech hyperreality turns the victims, the bystanders, and the executioners into easily manipulated illusions. His personalized traumatic experience teaches how to practice violence, not how to feel empathy. His project transforms the Babyn Yar tragedy into a roleplay, and the commemoration of the victims into a roller-coaster nerve-tickling. The memorial project that should help cultivate moral attitudes in fact devaluates any ethics. What Khrzhanovsky suggests is not only brutal; it is despicably cynical.

Several innovations that he takes from experimental psychology might work well in a Tarantino-style blockbuster, but are not applicable to museum pedagogy. His other experimental ideas stem from Borges, whom he mentions twice in his proposal. I happen to be a translator of Jorge Luis Borges into Russian; my translations have been regularly reprinted in various editions for thirty years. Knowing his sources, I believe I may address the author of this project directly.

Mr. Khrzhanovsky:
Your knowledge of the Ukrainian situation, of the Holocaust, of the history of Babyn Yar and of museum science is nil. Your understanding of the meanings of Borgesian labyrinths, which you love so much, is also nil. Be honest with yourself. Acknowledge that this is not your project, that you understand nothing about it, that you made a mistake. Be humble in your pretentions. Go make your experimental movies. Do not make enemies for yourself in Ukraine. Your project and your presence will turn Babyn Yar into a place of hatred. I am sure this is not your goal, unless the people who are paying you want to do just that. Save your reputation, do not ruin it. Emulate Karl Berkhoff who, although a bit too late, stepped down. Ukrainians and Jews would highly respect you for that courageous move.

My second address is to those on the advisory board, respectful people, professionals in their fields, exemplary political figures such as Natan Shcharansky, Vitali Klitschko, and Yakov Bleich:

I assure you that the Babyn Yar Memorial cannot, under any circumstances, be a privately sponsored project. It is you, gentlemen, who are pawns in somebody else's game. You are too well-known and too respected to play this game, the rules of which you neither control nor fully understand. As experienced politicians, you know what damage control means. Mr. Khrzhanovsky's project needs damage control. If you continue supporting it by attaching your names to it, you drag yourselves into a cultural disaster of enormous magnitude. Let us not transform a historical catastrophe into a cultural disaster. Saying "no" to this project will convey your professionalism, ethical integrity, and human dignity. Otherwise, would you really like to be part of the roleplay in Mr. Khrzhanovsky's experimental Holocaust?

Finally, I appeal to the Ukrainian President:
Mr. Zelenskyi, Babyn Yar, whether you like it or not, is a tragic symbol in the history of Kyiv. Even the first secretaries of the Ukrainian Communist party clearly understood that, though they still preferred to bury the tragedy in the official falsehood of the 1976 Babyn Yar monument to Soviet POWs. The 1991 collapse of the USSR, I hope, signifies some watershed in how the authorities deal with history in Ukraine. You were not born in this city, but you bear responsibility for the country that elected you its political leader. As a person in power, you cannot be a bystander. You must take a stance. Babyn Yar must be a national project, designed by top Ukrainian scholars, consulting with major institutions outside the country, and discussed by the spiritual and intellectual elites in the country. It cannot be privatized by anyone. The Babyn Yar victims belong to you and me. If the Ukrainian government is unable to sponsor it, the individuals involved in this project should work on the future memorial museum pro-bono, to avoid political manipulation and corruption.

Until then, the current project headed by Mr. Khrzhanovsky should be suspended indefinitely.

By Yohanan Petrovsky-Shtern


About the Author

Yohanan Petrovsky-Shtern
Historian
Chicago, United States of America
Yohanan Petrovsky-Shtern (Ph.D., Brandeis University, 2001, Ph.D. Moscow University, 1988) is the Crown Family Professor of Jewish Studies and a Professor of Jewish History in History Department at Northwestern University.